NATIONWIDE FEDERAL TORT CLAIMS ACT ATTORNEYS
CAN I SUE THE ARMY, NAVY, OR AIR FORCE?
Yes, the Army, Navy, or Air Force can be sued in certain circumstances. If you or a family member are the victim of medical negligence or suffered serious personal injuries as a result of the negligence of a federal employee, you may be able to bring a claim against a federal agency, like the Department of Veterans Affairs, the Department of the Army, the Department of the Navy, or the Department of the Air Force. If the negligent health care provider in your case committed malpractice at a domestic military base or a VA hospital, the case may be governed by the Federal Tort Claims Act (FTCA). The FTCA is a federal law that allows plaintiffs injured by the negligent acts of federal employees to file claims against the United States for damages.
FTCA coverage beyond traditional VA and military base health care
Medical malpractice resulting from care provided by Indian Health Services on an Indian reservation is also covered under the FTCA. In 1992 and 1995, Congress further extended FTCA medical malpractice coverage to include federally funded clinics. The federally funded clinics must apply in order to be "deemed" a FTCA covered center, and the application must be renewed from year to year, so coverage can change. In 2004, Congress extended FTCA coverage again to volunteer health professionals at certain free clinics. FTCA coverage also applies to vehicular accidents with military vehicles, like military convoys. It also covers auto accidents with USPS Postal Trucks. It applies to some accidents in National Parks. There are many instances when injuries caused by the negligence of federal employees can give rise to an FTCA claim.
How Do I Sue the VA, Army, Navy or Air Force?
Before you can file suit in federal court against the government, you must present an administrative claim within 2 years of the date of negligence to the appropriate federal agency before filing suit. The government agency must be given at least six months to conduct an investigation before suit can be filed in federal court. If the claim is denied, a claimant must either request reconsideration or file a lawsuit in federal court within six months of the date of denial or the claim is forever barred. In addition, some state law presuit requirements may apply to your case, depending on the jurisdiction. Talk to your lawyer about what conditions must be satisfied before bringing a lawsuit against the government in your case. If you are unable to resolve the case administratively, then suit must be timely filed in federal court to recover against the government.
Can Active Duty Members Sue the Military?
Most of the time, active duty service members will be barred from suing the federal government under a judge-made law known as the Feres doctrine. If an active duty service member was injured "incident to service" while on active duty, typically those claims are considered barred, as are any claims by their family members for damages that they suffered as a result of the service member's injury. However, if a service member's dependent was the primary victim of negligence, service members are typically not barred from participating in claims that arise out of a civilian's injury.

$7,860,000 Settlement Army Hospital Birth Injury
$6,500,000 Settlement Air Force Hospital Birth Injury
$5,800,000 Settlement Army Hospital Birth Injury
$5,117,473.50 Trial Judgment Air Force Hospital Medical Malpractice
$5,000,000 Settlement Army Hospital Failure to Diagnose
$5,000,000 Settlement Army Hospital Failure to Diagnose
Should I File an Administrative Claim Myself?
It is usually better if you work with a law firm to present your administrative claim because there are many details of the law that a non-lawyer may not be aware of in presenting an administrative claim. You can lose valuable time correcting mistakes, or may use up one of the two chances that you have to present a claim administratively. Your safest bet is to consult with a law firm experienced in handling FTCA cases and work with them to present the best administrative claim possible. Don't delay because the more time your law firm has to review the file and prepare your claim before the statute of limitations expires, the better.
Contact Our Attorneys
It is extremely time-consuming and expensive to pursue a complex military case, but our firm can skillfully guide you through the litigation process. Contact our attorneys today to schedule a consultation.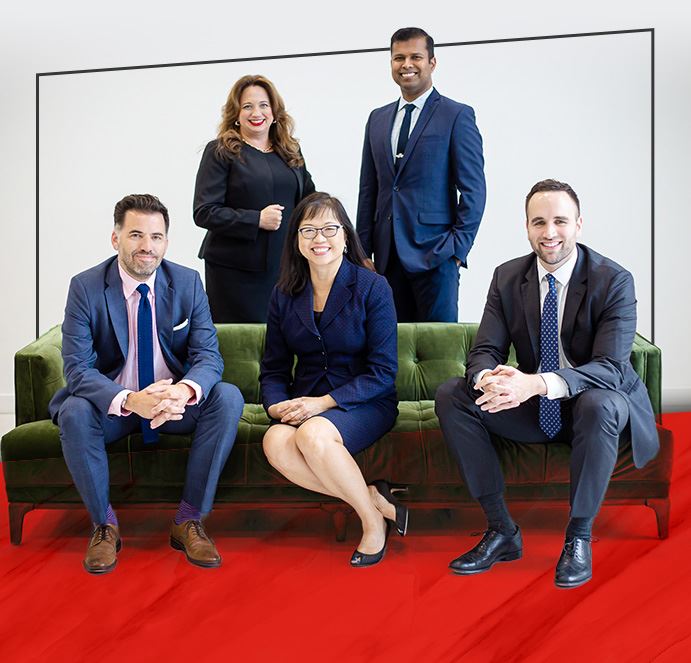 Helped me navigate an extremely complex system

"I couldn't recommend her enough."

Very impressed

"She always responded quickly and kept me informed at all times."

Instantly put us at ease.

"Words cannot fully express the amount of gratitude that we have for the both of you."

The entire team was always professional and supportive.

"Chip was always there to answer questions, calm me down and let me know everything was going to be okay!"

We are truly grateful for Jamal and his team

"After a long and lengthy process we feel secure in that we will be able to provide everything our son needs and deserves through the trusts that they set up for him." What sets us apart:
PEER APPROVED

More attorneys* named Super Lawyers by Thomson Reuters in the "Personal Injury Medical Malpractice: Plaintiff" category in 2014, 2015, 2016, 2017, 2018, 2019, 2020, 2021 and 2022 than any other law firm in Texas (*Bill Whitehurst, Chip Brees, Michelle Cheng, Jamal Alsaffar, Laurie Higginbotham and Tom Jacob)

TEXAS ROOTS

Founded in Austin with more than 40 years of trial experience.

NATIONAL REACH

National results in complex personal injury litigation.

DEEP BENCH

Many experienced lawyers ready to serve you.

SE HABLA ESPAÑOL

Our team has multiple Spanish speaking staff members.
Texas roots. National Reach.
Contact Us today.