nationwide medical malpractice lawyers
Austin Medical Malpractice Attorneys
REPRESENTING VICTIMS OF medical malpractice AND THEIR FAMILIES ACROSS TEXAS
Doctors, surgeons, nurses, pharmacists, medical technicians, and other healthcare professionals all provide enormously important services to their patients, keeping them healthy in body and mind. Although the majority of these specialists conduct themselves professionally and competently, the negligence of one doctor, hospital, or other healthcare provider can have traumatic and lifelong consequences for patients who receive improper care.
One of the many areas our firm handles are such claims related to medical malpractice and negligence. Cases of medical malpractice are extremely common. In fact, medical malpractice is one of the leading causes of preventable deaths in the United States. However, these are complex cases that require having a team of trained experts to successfully bring a claim against the negligence parties.
Patients who become victims of medical malpractice can suffer death or serious injury, and they and their families have the right to bring a claim against the negligent party. Our medical malpractice lawyers have brought claims against professionals in places such as Killeen, Wichita Falls, Austin, Houston, Dallas, San Antonio, and across Texas and the country, from coast-to-coast. Handling claims involving cerebral palsy, birth injury, and wrongful death, our Texas malpractice attorneys have represented clients in a wide range of cases and have obtained some of the highest settlements in history.
Contact our firm today to meet with our medical malpractice attorneys.
Common Forms of Medical Malpractice
Medical malpractice can occur in many forms, some more obvious than others.
Some of the most common forms include:
Birth injury
Failure to diagnose cancer or another serious disease
Misdiagnosis of a serious disease
Wrongful amputation
Prescription drug mistakes
Unwarranted testing of experimental drugs on patients, and other kinds of inadequate or unethical treatment
If you or a loved one has suffered from birth injury, cerebral palsy, or another serious injury as a result of medical negligence, our attorneys can help you determine whether you may be eligible to bring a claim against the negligent party.
A young combat veteran of the Iraq war was 27 years old when he called the Dallas VA appointment line to request an appointment due to back pain. The next evening, he began experiencing urinary incontinence at home. He woke from a nap having wet himself. He presented to the Dallas VA complaining of lumbar back pain, decreased muscle strength and numbness of the lower extremities, bladder dysfunction, lower extremity radicular pain, and difficulty walking. He was seen by a physician's assistant. A future lumbar MRI was ordered (with no time or date specified) and he was discharged home.
With no improvement and dissatisfied with his treatment at the VA, he presented to a private hospital in Dallas where a CT of the lumbar spine revealed an extruded disc with a free-floating fragment. The diagnosis of cauda equina syndrome was made and he was transferred for emergency surgery, but it was too late.
At the age of 27, this veteran faces the rest of his life as a paraplegic suffering from permanent cauda equina syndrome. Because the Dallas VA failed to diagnose his cauda equina syndrome and perform surgery within 48 hours of the onset of symptoms, he suffered permanent neurologic damage. He is a paraplegic and suffers from bowel, bladder, and erectile dysfunction. He must use crutches or is confined to a wheelchair. He suffers daily pain and numbness. All of these damages were preventable if the VA timely diagnosed and treated his cauda equina syndrome. The VA settled his case pre-suit for $800,000.
Vietnam War Veteran
A veteran of the Vietnam War suffered a similar fate following back surgery at the West Los Angeles VA. The veteran underwent a L4-5 and L5-S1 laminectomy. Before surgery, he suffered back pain but did not have problems with bowel function, urination, or sexual function. He did not have difficulty walking.
The day after surgery, the veteran complained to the nurse of numbness in the scrotum, unable to feel sensation, and dull sensation in his right leg. The symptoms persisted and worsened. Soon he was numb from his waist down, incontinent of urine and bowel, and had no feeling in his genital area. He was diagnosed with saddle anesthesia defined as a loss of sensation restricted to the area of the buttocks and perineum.
The post-operative changes he was experiencing are symptoms of cauda equina syndrome, which is an emergency requiring prompt surgical intervention to reduce pressure on the cauda equina nerves. The neurosurgeon was informed of the veteran's symptoms, but no imaging studies, further examination, or action of any kind was taken. When his doctors finally took him back to surgery two weeks later, it was too late. He now suffers from urinary and bowel incontinence, loss of sexual function, paresthesia lateral and posterior aspects of both legs, and pedal and lower extremity edema. He was told that the symptoms have been present for so long that the damage was permanent. His case was settled before trial for $800,000.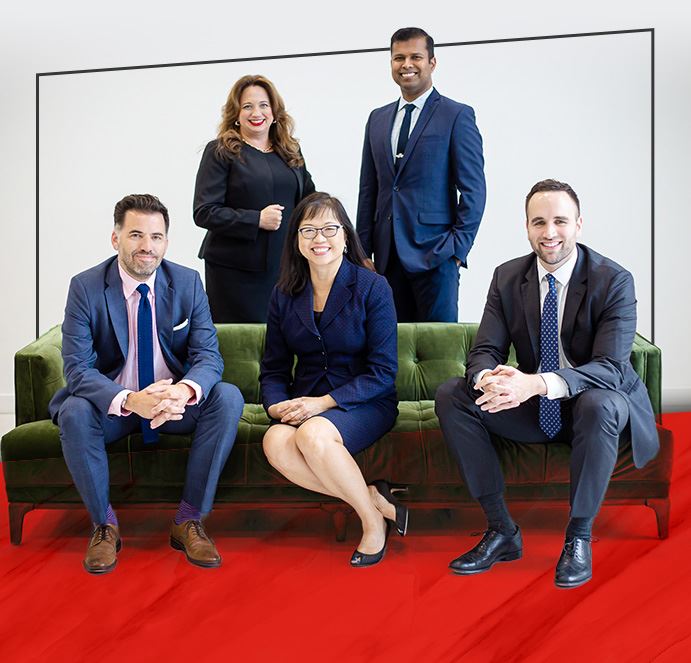 Helped me navigate an extremely complex system

"I couldn't recommend her enough."

Very impressed

"She always responded quickly and kept me informed at all times."

Instantly put us at ease.

"Words cannot fully express the amount of gratitude that we have for the both of you."

The entire team was always professional and supportive.

"Chip was always there to answer questions, calm me down and let me know everything was going to be okay!"

We are truly grateful for Jamal and his team

"After a long and lengthy process we feel secure in that we will be able to provide everything our son needs and deserves through the trusts that they set up for him."
Medical Malpractice & the Federal Tort Claims Act
Medical malpractice cases sometimes involve military doctors or hospitals, VA clinics and hospitals, and federally funded clinics. The Federal Tort Claims Act governs lawsuits against the United States government, including lawsuits involving military physicians, facilities, and other healthcare providers. With extensive experience in negligence and birth injury claims, our medical malpractice attorneys have handled FTCA cases all over the United States. In fact, our lawyers have obtained two of the highest Federal Tort Claims Act verdicts in United States history: Dickerson v. U.S. ($18.96 million received by our clients) and Lebron v. U.S. (over $15.75 million received by our clients). Both of these cases involved children who suffered serious birth injuries due to medical negligence.
It is important to consult with a lawyer experienced in FTCA cases, because the FTCA adds additional rules and requirements that must be satisfied before the government will compensate you for your claim.
When it comes to suing the US government for medical malpractice, the Federal Tort Claims Act is the roadmap for what's allowed. This applies to military hospitals and doctors, VA facilities, and other government-related medical specialists.
Don't entrust your cases to the first lawyer you find. Winning a case depends on lawyers with extensive FTCA experience, and that's what our firm brings. We know the rules, the technicalities, and the ins and outs to ensure you get the settlement you deserve.
Frequently Asked Questions
How Much Does It Cost to Hire a Medical Malpractice Attorney?
Medical malpractice cases are different from other lawsuits. Rather than a typical retainer payment arrangement between lawyer and client, medical malpractice attorneys work on a contingency fee basis. This means that there is no up-front cost to you. We advance the cost of the lawsuit. If we win the case or negotiate a settlement, our fee is a percentage of the recovery we get for you. We also take out any costs that we advanced in the prosecution of your lawsuit. However, you pay nothing if we don't recover for you.
What Is the Average Settlement for Medical Malpractice Lawsuits?
Medical malpractice lawsuit settlements vary greatly, depending on the circumstances. The settlement amount is determined through negotiations between the plaintiff and defendant(s) (through their attorneys) and is based on economic losses caused by the plaintiff's injuries, plus any agreed compensation for non-economic damages, which includes things like emotional pain and suffering, mental anguish, impairment, and disfigurement.
It is important to note that many states have caps on the amount of non-economic damages in medical malpractice cases.
In Texas, non-economic damages in medical malpractice cases are capped by law, as follows:
$250,000 for all doctors or health care providers other than a health care institution (like a hospital)
$250,000 against a single health care institution
$250,000 for each additional health care institution
It is very rare for cases to involve more than one health care institution. Most of the time, the non-economic damage cap in a given medical malpractice case is either $250,000 or $500,000 total.
What Is the Difference Between Medical Malpractice & Medical Negligence?
Legally, the terms "medical malpractice" and "medical negligence" are the same. If a health care provider does something that a reasonably prudent health care provider in the same or similar circumstances would not have done or doesn't do something that a reasonably prudent health care provider in the same or similar circumstances would have done, the action or inaction of that health care provider may rise to the level of malpractice, or negligence. An example is a doctor who fails to diagnose cancer in a person who has cancer, despite knowing about signs and symptoms that were consistent with cancer. Another example would be a doctor who does not deliver a baby in a timely manner despite the fact that the baby's heart tracings on a fetal monitor strip are non-reassuring for a period of time.
Contact our medical malpractice attorneys today to schedule a consultation.
Who Can Commit Medical Malpractice?
Medical malpractice often results in permanent, disabling injuries — sometimes event death. Those who suffer this injustice have every right to be compensated for their suffering, both short and long-term. Our Austin medical malpractice attorneys know this all too well, having settled cases with all manner of healthcare practitioners who have been negligent when caring for patients.
Practitioners we've dealt with include:
Medical doctors
Surgeons
Emergency room physicians and surgeons
Nurses
Medical technicians
Pharmacists
Chiropractors
Physical therapists
Obstetricians/gynecologists
Our Austin medical malpractice attorneys have represented victims of medical negligence in towns all over the State of Texas and the U.S. We have brought claims against providers in Killeen, Wichita Falls, Austin, Houston, Dallas, San Antonio, and many other Texas cities.
Whether you're local to Austin, TX, or are a victim of medical malpractice anywhere in Texas, the attorneys at National Trial Law are ready to help.
When Can You File a Medical Malpractice Claim in Texas?
In general, there is a two-year statute of limitations for medical malpractice claims in Texas. This means that a medical malpractice suit must be filed no later than two years after the negligent act or omission occurred, or it is barred by the statute of limitations and cannot be brought.
Contact our Austin medical malpractice attorneys today to schedule a consultation. What sets us apart:
PEER APPROVED

More attorneys* named Super Lawyers by Thomson Reuters in the "Personal Injury Medical Malpractice: Plaintiff" category in 2014, 2015, 2016, 2017, 2018, 2019, 2020, 2021 and 2022 than any other law firm in Texas (*Bill Whitehurst, Chip Brees, Michelle Cheng, Jamal Alsaffar, Laurie Higginbotham and Tom Jacob)

TEXAS ROOTS

Founded in Austin with more than 40 years of trial experience.

NATIONAL REACH

National results in complex personal injury litigation.

DEEP BENCH

Many experienced lawyers ready to serve you.

SE HABLA ESPAÑOL

Our team has multiple Spanish speaking staff members.
Texas roots. National Reach.
Contact Us today.