NATIONWIDE PERSONAL INJURY ATTORNEYS
Austin Delivery Truck Accident Attorneys
Representing Delivery Truck Accident Victims Across Texas
More and more people in Texas and across the United States rely on the United States Postal Service (USPS) and package delivery companies like Lone Star Overnight (LSO), the United Parcel Service (UPS), DHL, and FedEx to procure all kinds of products. You almost certainly see USPS trucks and other delivery company trucks on a daily basis. As the drivers of these trucks are increasingly pressured to complete more and more deliveries each day, they may become more likely to lose focus, make mistakes, and cause accidents.
If you get into an auto accident caused by a delivery truck, you should immediately speak to a seasoned legal professional. You may be able to seek compensation from the negligent driver and their employer. Our Austin delivery truck accident lawyers at National Trial Law have over 40 years of trial experience and can aggressively represent you in cases involving private companies like LSO, UPS, FedEx, and DHL. We are known for our Texas roots and national reach. To that end, we are also prepared to enforce your rights under the Federal Tort Claims Act (FTCA) if you suffered injuries due to the negligence of a USPS truck driver, and we handle these claims nationwide. No matter the complexity of your circumstances, we will always fight to secure the maximum compensation available in your case.
We charge no legal fees unless we win, so contact us online or call (833) 913-1885 to schedule a complimentary case evaluation today. Se habla español.
$8,700,000 Jury Verdict Products Liability
$7,450,000 Settlement Delivery Truck Accident
$5,900,000 Settlement Garbage Truck Accident
$5,500,000 Jury Verdict Delivery Truck Accident
$2,000,000 Settlement 18-Wheeler Truck Accident
$1,903,961 Trial Judgment Wrongful Death of a Child
Common Causes of Delivery Truck Accidents in Austin, TX
Delivery trucks are ubiquitous across Texas. In fact, Lone Star Overnight is headquartered right here in Austin. This means there is a strong chance you will encounter at least one delivery truck whenever you travel on Texas roadways. Unfortunately, delivery trucks are involved in a frighteningly high number of accidents annually. These may be caused by straightforward driver negligence, but the pressure to meet tight delivery deadlines and unrealistic quotas can also contribute to unsafe driving behaviors that can result in accidents.
Delivery truck accidents are often caused by:
Reckless driving. Some drivers will speed excessively and ignore traffic rules in an effort to complete their routes faster, violating the legal duty they owe to others on the road. Additionally, if drivers are too busy concentrating on getting to their next destination as quickly as possible, they may forget simple but critical safety measures like signaling before turning or changing lanes.
Fatigued driving. As drivers are expected to complete more and more deliveries in a single day, their hours get consistently longer, forcing some to push their bodies to their physical limits. Though there are hours of service regulations that limit the consecutive number of hours a driver can operate a commercial vehicle without resting, these rules are sometimes ignored. A fatigued driver is far more likely to make mistakes and cause accidents.
Distracted driving. Drivers are not permitted to use any handheld devices, including their phones, when operating their vehicles. They should also not be looking at their routes or other paperwork when their trucks are in motion. If a truck driver's failure to give their full attention to the road causes an accident, their conduct likely constitutes negligence.
Poorly maintained vehicles. An accident may not always be a delivery truck driver's fault. If their employer fails to inspect and maintain their vehicles, a truck could break down or behave unpredictably in a crucial moment, causing an otherwise avoidable collision.
The cause of your collision may not be immediately obvious, but our Austin delivery truck accident lawyers can conduct a complete investigation of the accident and determine who is responsible. We understand how to accurately determine liability and what evidence will be needed to prevail in court.
Whenever you get into an accident with a delivery truck, you should do all of the things you would normally do to preserve evidence and protect your rights in the minutes after a car accident. That includes calling the police, waiting for an officer to arrive and create an official accident report, documenting the scene, and getting the other driver's name, address, phone number, insurance information, and license information. Then, reach out to our team at National Trial Law. We can walk you through your legal options after assessing the facts of your case.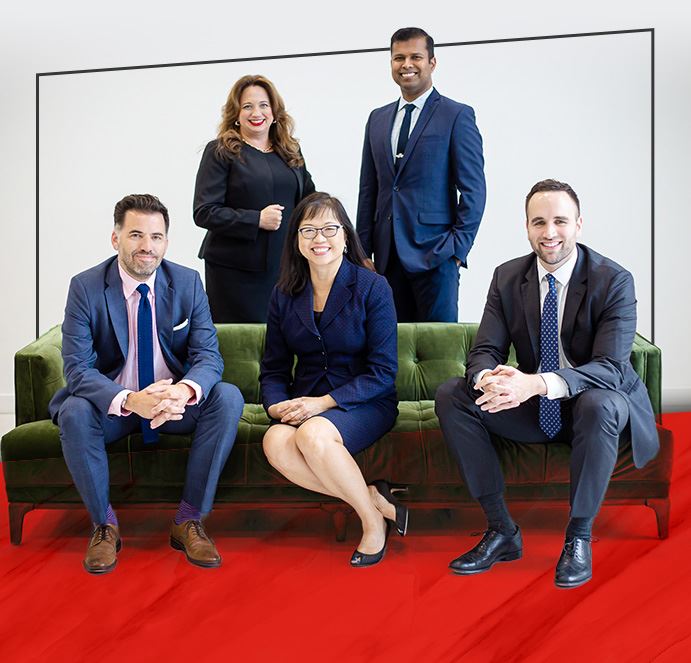 Helped me navigate an extremely complex system

"I couldn't recommend her enough."

Very impressed

"She always responded quickly and kept me informed at all times."

Instantly put us at ease.

"Words cannot fully express the amount of gratitude that we have for the both of you."

The entire team was always professional and supportive.

"Chip was always there to answer questions, calm me down and let me know everything was going to be okay!"

We are truly grateful for Jamal and his team

"After a long and lengthy process we feel secure in that we will be able to provide everything our son needs and deserves through the trusts that they set up for him."
Can I Sue the United States Postal Service for USPS Truck Driver Injuries?
In short, yes, you have the right to take legal action against the federal United States government and seek compensation for economic and non-economic damages caused by a negligent USPS truck driver. These cases are subject to the procedures and requirements of the Federal Tort Claims Act. We understand how to approach FTCA claims and can help you navigate this complex, highly specific legal process.
What Damages Can I Recover for Delivery Truck Accident Injuries in Austin, TX?
When a personal injury case involves a delivery truck driver employed by a private company like UPS, DHL, or LSO, you have the right to seek economic and non-economic damages from both the negligent driver and their employer. Keep in mind that, in certain circumstances, the delivery company may still be liable for your injuries even if their employee was not negligent. For example, if there is evidence a delivery company failed to regularly inspect and maintain its vehicles and this inadequate maintenance led to a collision, you can sue the delivery company even though their driver was not necessarily at fault for the accident.
You must start the legal process before the statute of limitations expires. In Texas, you have two years from the date of a delivery truck accident to bring a claim against the negligent truck driver and/or the delivery company. If someone suffers fatal injuries because of a delivery truck accident, the personal representative of their estate or the victim's immediate family members have two years from the date they passed away to file a wrongful death lawsuit.
Our Austin delivery truck accident lawyers will work to secure just compensation for all losses, including:
Past, current, and future medical bills
Lost income and earning capacity
Property damage
Physical pain and suffering
Mental pain and anguish
Loss of consortium
Loss of enjoyment of life
Package delivery companies are aware they are legally responsible for the conduct of their employees, which is why many will offer settlements to accident injury victims in the hopes of avoiding a trial. Do not accept any proposed settlement without reviewing it with an attorney familiar with delivery truck accident cases. Our goal is to facilitate an optimal outcome as quickly as possible, so we will advise when it makes sense to accept an offer and when it is in your best interest to go to court.
Our legal professionals are trial-tested and well-equipped to take on the USPS as well as private package delivery companies. Call (833) 913-1885 or contact us online to learn more about how we can help with your claim today. What sets us apart:
PEER APPROVED

More attorneys* named Super Lawyers by Thomson Reuters in the "Personal Injury Medical Malpractice: Plaintiff" category in 2014, 2015, 2016, 2017, 2018, 2019, 2020, 2021 and 2022 than any other law firm in Texas (*Bill Whitehurst, Chip Brees, Michelle Cheng, Jamal Alsaffar, Laurie Higginbotham and Tom Jacob)

TEXAS ROOTS

Founded in Austin with more than 40 years of trial experience.

NATIONAL REACH

National results in complex personal injury litigation.

DEEP BENCH

Many experienced lawyers ready to serve you.

SE HABLA ESPAÑOL

Our team has multiple Spanish speaking staff members.
Texas roots. National Reach.
Contact Us today.