NATIONWIDE PERSONAL INJURY ATTORNEYS
Austin Spinal Cord Injury Attorneys
Representing Victims of Spinal Cord Injuries Across Texas
Spinal cord injuries are among the most traumatic personal injuries, as they tend to radically change the victim's life forever. When spinal cord injuries are caused by another party's negligence, error, or misconduct, the victim and their family may be entitled to compensation under the law. Hiring capable legal professionals can help these individuals assert their rights and obtain justice.
Our seasoned, skilled team at National Trial Law is available to investigate cases on behalf of people who have suffered serious injuries to the spine. Our Austin spinal cord injury lawyers have the drive and resources required to successfully advocate for individuals and families devastated by the negligence or recklessness of others. We have extensive experience representing clients who have suffered catastrophic spinal injuries caused by medical malpractice, auto accidents, traumatic falls, and more. No matter the complexity of your circumstances, we are confident we have what it takes to win and will fight tirelessly to secure the maximum compensation you need to move forward with your life.
If you or a family member has suffered a spinal cord injury caused by the negligence of another party, we urge you to schedule a complimentary case evaluation by calling (833) 913-1885 or contacting us online. Se habla español.
How Spinal Cord Injuries Affect the Body
Many spinal cord injuries are caused by traumatic blows to the victim's vertebrae. Even a minor spinal cord injury will generally result in significant adverse health consequences and may impact the victim's mobility, quality of life, and ability to complete everyday tasks.
Common health impacts of spinal cord injuries include:
Permanent disability
Paralysis of the arms, legs, or lower body
Loss of bladder or bowel control
Sexual dysfunction
Loss of feeling, numbness, and/or tingling in the arms, legs, or other body parts
Uncontrollable muscle spasms
Chronic pain
Respiratory complications
Emotional loss can be just as traumatic as the physical hardships that come with a spinal cord injury. The victim and their family will need to adjust to new challenges, and they may experience a variety of negative emotions as they come to terms with their injury and how it will permanently affect their life.
These emotional consequences may include:
Depression, which may be categorized by extreme sadness, changes in sleeping patterns, loss of appetite, loss of hope, or feelings of worthlessness
Grief over the loss of physical ability
Shame or embarrassment related to loss of function or independence
Extreme anger or rage, which may cause a victim to lash out
$8,700,000 Jury Verdict Products Liability
$7,450,000 Settlement Delivery Truck Accident
$5,900,000 Settlement Garbage Truck Accident
$5,500,000 Jury Verdict Delivery Truck Accident
$2,000,000 Settlement 18-Wheeler Truck Accident
$1,903,961 Trial Judgment Wrongful Death of a Child
Recovering Damages for Spinal Cord Injuries through Personal Injury Litigation
When you suffer any type of injury due to the negligence or recklessness of someone else, you typically have the right to file a personal injury lawsuit and seek economic and non-economic damages. Because spinal cord injuries tend to be life-changing and result in catastrophic financial and practical consequences, it is extremely important that you exercise this right and pursue the compensation you need to cover your losses.
In order to assess the viability of your case, we request that you gather the following documents before reaching out:
Medical records
Medical invoices and bills
Correspondence from the insurance company, hospitals, and doctors
Tax documents to serve as evidence of lost wages
Photographs of your injuries and the scene of the accident
One of our Austin spinal cord injury attorneys will review every detail of your case with you. Together, we will determine the optimal strategy for pursuing the compensation you deserve.
You should not wait to reach out to us. In many cases, you will only have two years from the date you suffered a spinal cord injury to file a personal injury lawsuit. If you were injured by the State of Texas, a government agency, or a government employee, you will have significantly less time to start the legal process.
The defendant in your case may attempt to offer a monetary settlement to avoid the need for a trial. If the proposed settlement adequately covers your losses, accepting it may be in your best interest, as you will receive compensation faster and incur fewer litigation expenses. Not all defendants are willing to negotiate in good faith, however, and our team at National Trial Law is never afraid to go to court. Our case results speak for themselves, and we will fight to get you as much as possible.
Our Austin spinal cord injury lawyers will work to secure compensation for all losses, including:
Past, current, and future medical expenses, including costs associated with long-term treatments, medical equipment, necessary modifications to your home or automobile, and/or 24/7 care in cases of paralysis and other disabilities
Loss of income due to an inability to pursue a normal course of employment
Loss of economic support for family members
Physical pain and suffering
Mental pain and anguish
Loss of consortium
Loss of enjoyment of life
Disfigurement
Impairment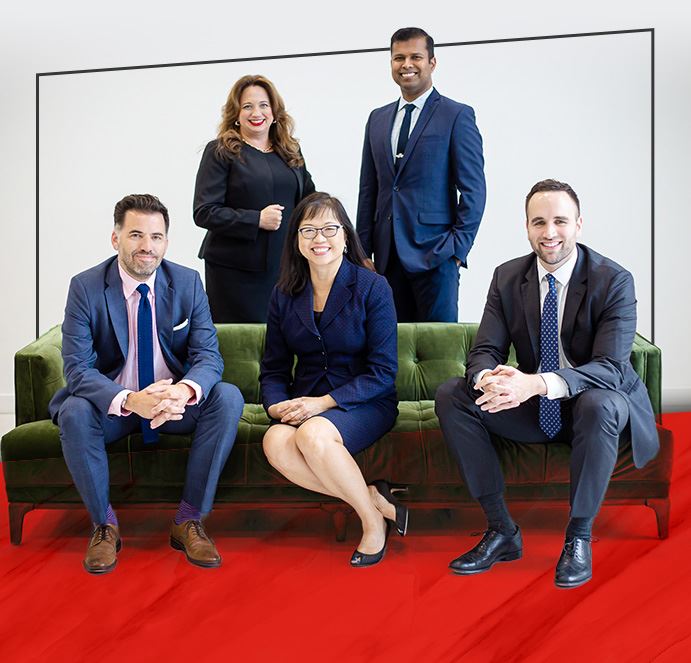 Helped me navigate an extremely complex system

"I couldn't recommend her enough."

Very impressed

"She always responded quickly and kept me informed at all times."

Instantly put us at ease.

"Words cannot fully express the amount of gratitude that we have for the both of you."

The entire team was always professional and supportive.

"Chip was always there to answer questions, calm me down and let me know everything was going to be okay!"

We are truly grateful for Jamal and his team

"After a long and lengthy process we feel secure in that we will be able to provide everything our son needs and deserves through the trusts that they set up for him."
Frequently Asked Questions about Spinal Cord Injuries in Texas
What Types of Accidents Cause Spinal Cord Injuries in Texas?
Car accidents and other types of motor vehicle collisions are very common causes of spinal cord injuries. Unfortunately, so is medical malpractice. Other causes include falls, industrial accidents, diseases, shootings, and assaults.
How Much is a Spinal Cord Injury Lawsuit Worth in Texas?
The value of your spinal cord injury lawsuit will depend on the facts of your specific case. In situations involving serious injury, a document called a life care plan can be created to provide a dollar value for the future medical expenses, rehabilitation, and other costs you will likely incur as a result of your injury.
If your spinal cord injury is caused by medical malpractice, the non-economic damages you can recover are capped as follows:
$250,000 for all healthcare providers other than a healthcare institution (such as a hospital)
$250,000 against a single healthcare institution
$250,000 for each additional healthcare institution
It is rare for spinal cord injury cases to involve more than one healthcare institution. Consequently, the non-economic damage cap in a given case is typically $250,000 or $500,000 in total. There is no limit placed on economic damages.
What Damages Are Covered in a Texas Spinal Cord Injury Lawsuit?
Plaintiffs in Texas spinal cord injury lawsuits can generally seek two types of damages: economic damages and non-economic damages. Economic damages refer to the actual expenses incurred because of the injury. This may include past and future medical bills, past and future lost earnings, property damage, and any other out-of-pocket expenses. Non-economic damages include compensation for losses that are not as easily quantifiable, such as pain and suffering, disfigurement, and impairment.
Can I Sue for Spinal Cord Injuries Caused by a Medical Professional in Texas?
Yes. If a healthcare provider fails to perform an action that another reasonably prudent medical professional would have performed in the same or similar circumstances or if that provider takes an action that another prudent professional would not have performed in the same or similar circumstances, then the provider's inaction or action rises to the level of negligence or malpractice, meaning you likely have a case.
You owe no legal fees unless we win, so contact us online or call (833) 913-1885 to start exploring your legal options with our seasoned, trial-tested legal professionals today. What sets us apart:
PEER APPROVED

More attorneys* named Super Lawyers by Thomson Reuters in the "Personal Injury Medical Malpractice: Plaintiff" category in 2014, 2015, 2016, 2017, 2018, 2019, 2020, 2021 and 2022 than any other law firm in Texas (*Bill Whitehurst, Chip Brees, Michelle Cheng, Jamal Alsaffar, Laurie Higginbotham and Tom Jacob)

TEXAS ROOTS

Founded in Austin with more than 40 years of trial experience.

NATIONAL REACH

National results in complex personal injury litigation.

DEEP BENCH

Many experienced lawyers ready to serve you.

SE HABLA ESPAÑOL

Our team has multiple Spanish speaking staff members.
Texas roots. National Reach.
Contact Us today.